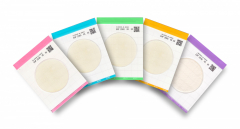 Easy Plate is a prepared media plates with no need for media preparation and sterilization. Using a time-tested and AOAC RI PTM and MicroVal (Easy Plate YM-R is under validation) validated culture media methodology, Easy Plate comes in an easy-to-use, stackable film plate format that saves on space, reduces waste, eliminates preparation time and labor, and streamlines your test procedures.
Feature
Simple operation, reliable results ( Easy Plate AC,CC,EC,SA is AOAC RI PTM and MicroVal Cerified. YM-R is still in progress).
Immediately after opening the package, enables you to place a sample suspension onto the media and to start incubation.
Compared to traditional plates, saves incubation space and reduces waste.
Product Name
Easy Plate AC
Easy Plate CC
Easy Plate EC
Easy Plate SA
Easy Plate YM-R
Packaging
100 tests(25 tests×4 bags)
Object
microorganism
Aerobic Bacteria
Coliform
E. Coli / Coliform
Staphylococcus aureus
Yeast and Mold
Incubation Temperature
35±1℃
35±1℃
37±1℃
25±1℃
Incubation
Times
48±2 hours
24±1 hour
48±2 hours
Storage
Condition
(Unopened)

2-8℃
(After opening)
After opening the package, fold the open end of the package at least 2 times and tape it.
Store in a refrigerator (2 to 8°C) and use within 3 months.(For YM-R within 1 month)
Shelf life
18 months after manufacturing date
12 months after manufacturing date
18 months after manufacturing date

Certification/
Regulation
AOAC RI PTM Certified・MicroVal Certifed
-
The number
of tests
100 tests