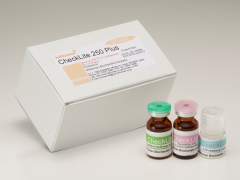 For ATP measurement in microorganisms
Feature
CheckLite 250 Plus is a kit for microbial biomass assays based on the ATP measuring method.
CheckLite contains thermostable firefly luciferase.
CheckLite is characterized by its ease of use and rapid performance.
CheckLite can detect 10,000 cells of coliforms/ml (1,000 cell/assay).
Number of measurements
250 assays
Composition

Luciferin-luciferase reagent (lyophilized) x 5

Reconstitution buffer (5.5 ml) x 5

ATP releasing reagent (5.5 ml) x 5

Storage
2-8 ℃
Expiry
End of month after 16 months from manufacturing date.
Caution
・CheckLite 250 Plus should be stored at 2-8 C in a refrigerator. DO NOT FREEZE.