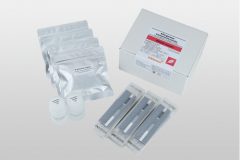 Allergeneye Immunochromatography test is a rapid, easy and effective testing for key food allergens.
This allergen strip test uses monoclonal antibodies that are highly specific to certain proteins originating from the food allergen to be detected. Proven to be more sensitive than the competition for heated foods.
Feature
Rapid - Test Results available in 1-hr.
Sensitivity - Able to detect 2 ppm of allergenic protein in a food sample.
Accuracy - More reliable for, especially in heated, boiled and pre-packaged foods.
Quantity
20 tests / kit
Composition

Test strips (individual packaging in transparent plastic bag, with a plate-shaped desiccant)
・・・ 20 strips
Detection reagent (5 tubes/1 bag package, freeze-dried product) ・・・ 20 tubes (4 bags)
Specimen extraction solution
Extraction solution (1) (10-time concentrated) ・・・50mLx1
Extraction solution (2) (10-time concentrated) ・・・50mLx1
Detection reagent tube stand (10 holes, made of paper)・・・ 2 pieces

Storage
1-30 ℃ (Room Temp)
Expiry