A solution that makes microbiological testing of food easier!
Save time, labor, and money with Kikkoman Easy Plate. Easy Plate is a convenient, prepared media plates for faster and easier microbiological testing. Using a time-tested and AOAC validated culture media methodology, Easy Plate comes in an easy-to-use, stackable film plate format that saves on space, reduces waste, eliminates preparation time and labor, and streamlines your test procedures. Each Easy Plate is specialized for a specific target organism (or group) and includes options for Aerobic Bacteria (AC), Coliforms (CC), E. coli/Coliforms (EC) , Staphylococcus aureus (SA) and Yeast and Mold(YM-R).
Available Types of Easy Plate
Feature
1. Time & Space saving
No need for media preparation and sterilization.
Faster sample inoculation without special equipment.
Easy Plate's stackable design greatly reduces the operational space required.
2. Simple operation, reliable results
Extensive training is not required.
Test results correlate well with established conventional laboratory procedures.
Easy Plate AC, CC, EC, SA is AOAC RI PTM Certified.
3.Reduces incubation space and waste
Requires only 1/20th of that needed by a petri dish, increasing your incubation volume. Storage space requirements, incubation space and waste are all reduced.
Greenhouse gas (GHG) emissions are also reduced compared to traditional agar plates.

※ According to the research by DNP
Free software for imaging and analyzing Easy Plate are available.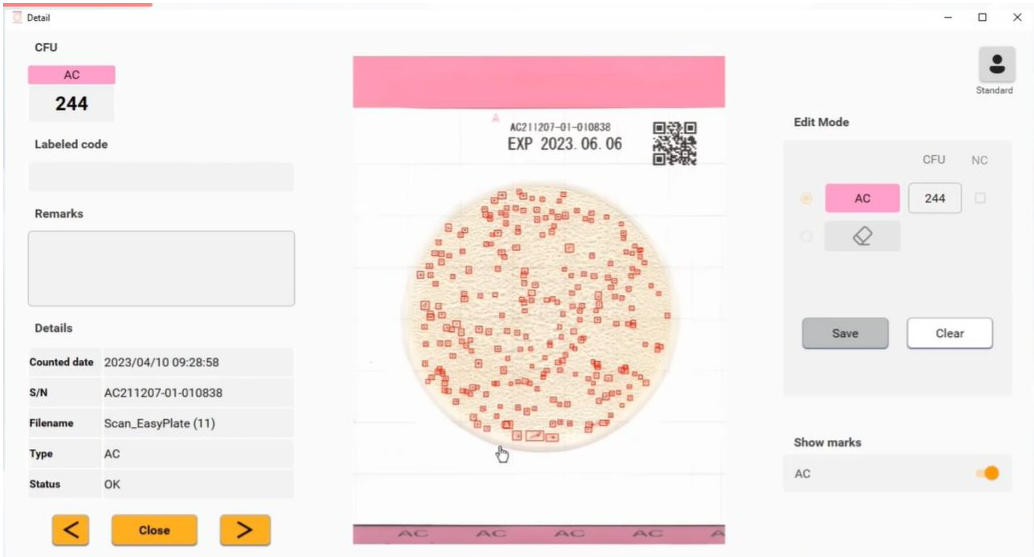 A software that counts and analysis colonies in imaged Easy Plate. Provides you simpler and time-saving way to count colonies that manual counting!