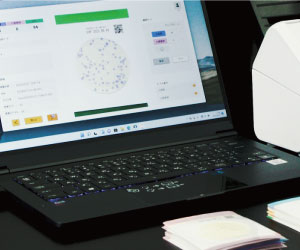 The new solution by Kikkoman Biochemifa Company for colony counting are available. The software "Colony Counting System for Easy Plate" can be downloaded for free.
Automatically counts and analyzes the colonies in imaged Easy Plate. Simpler and time-saving way to count colonies than manual counting advances efficiency and eliminates the effects of variation and skill level among operators.
※It requires the scanner (ADS-4300N by BROTHER INDUSTRIES, LTD.) for imaging Easy Plate. We do not sales the scanner.
---
---
Highlights

Procedures for colony counting

Up to 7 sheets can be inserted at once.
To scan more than 7 sheets continuously, add the sheets on at a time.
The features of the software
Highly accurate analysis with AI technologies.
Automatically determines which of the 5 Easy Plate products is used and measures colonies.
It also identifies spread colonies.
Parameters to judge colonies are available with no initial settings.
Able to modify the result and add the comments.
Recommended system requirements
Windows10, 11
More than Core-i3
Requires 15G or more memory space (If 1000 sheets of image were saved)
Designated scanner
ADS-4300N by BROTHER INDUSTRIES, LTD.
We do not sell the scanner.
If you have any troubles with using Easy Plate, please contact us.
The incidents occurred from scanning Easy Plate will not be covered by the warranty of each retailer.
In case of malfunction, you are liable for the cost of repair provided by each retailer.
There is no guarantee for operation of scanning Easy Plate when repaired with a fee.
Supported languages for Colony Counting System
Colony Counting System is available in 10 languages. (English, German, Spanish, French, Korean, Thai, Vietnamese, Simplified Chinese, Traditional Chinese, Japanese)
The default language setting is Japanese. You can change the language to English or another language by changing the program setting.
Refer to the instruction manual P12-P13 on how to change the language setting.
Download software