Lumitester-designated app for Lumitester Smart An app that is easy to use, helps users to manage measurement data anytime and anywhere. Provides visual information on where/how to use and pass/fail limit.
Features
1. Test point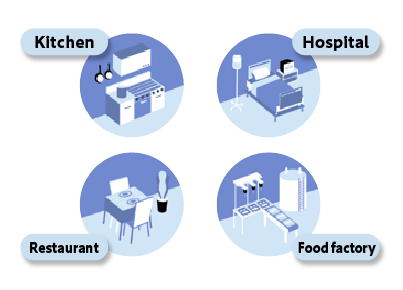 Accumulate measurement data for each registered test point. Easy to set test points and pass/ fail limits.


2. Results
Display time-series data for each test
Visualize overall inspection scores through graphs
Centralized multi-site data with cloud management
3. Industries
Food factories, Mass cooking facilities, Supermarkets, Restaurants, Cleaning services, Health care etc.
Procedure
Introduction of Measurement Methods
The Lumitester Smart can be used more efficiently by using the measurement method best suited to the measurement situation.
Measure with the Lumitester Smart while connecting with the app
This measurement method is recommended for those who want to immediately compare with past data on site and for those who are utilizing the app for the first time.

Measure only using the Lumitester Smart*
This new measurement method is recommended for those who cannot bring smartphones or other devices into the field.
*When using this measurement method, "PLAN Mode" setting is required before the measurement.(External link to YouTube)

Languages
Lumitester Smart APP is available in 26 languages.
Arabic, Brazilian Portuguese, Danish, Dutch, English, Finnish, French, German, Greek, Hungarian, Indonesian, Italian, Japanese, Korean, Norwegian, Polish, Portuguese, Romanian, Russian, Simplified Chinese, Spanish, Swedish, Thai, Traditional Chinese, Turkish, Vietnamese.
Download app
For Smartphone or Tablet
For PC (OS: windows 7 or 10)
OS Requirements
Windows 7, 10
Android 5.0 or later
iOS 10.0 or later
PC (Windows ver) with the following requirements
OS: Windows 7 (32 bit/64 bit) or Windows 10 (32 bit/64bit)
CPU/RAM: See recommended system of Windows
Hardware:1GB or more free disk space, USB port
Caution of Bluetooth
Radio frequency bands and communication methods that can be used are defined for each country. In some countries, registration of wireless devices may be mandatory.
Country or region where Bluetooth can be used:
Japan, United States, Canada, EU, United Kingdom, Australia, New Zealand, Thailand, IndiaK

Korea, Taiwan (First 4 digits of the serial number starts on and after 1905 can be used.)

Singapore, Philippines, Mexico (First 4 digits of the serial number starts on and after 1919 can be used.)
China, Indonesia, Malaysia (First 4 digits of the serial number starts on and after 1925 can be used.)
Cloud System
Monitor multiple facility from anywhere. Results are stored in the cloud data which can be accessed by any device. Results from multiple facilities can be combined and analyzed easily.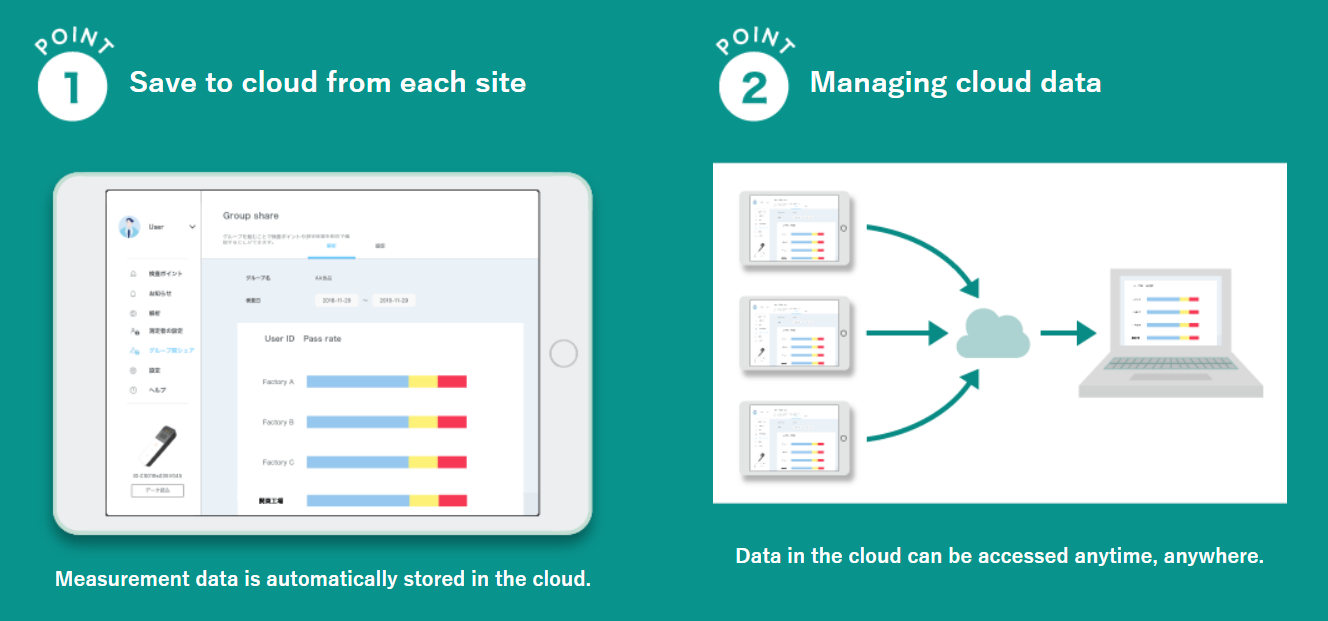 Integration with other companies' systems
Lumitester Smart can also be integrated with other companies' systems. Lumitester Smart can manage measurement results as digital data by linking with dedicated app or third-party systems. By centrally managing measurement results on the system, which used to be recorded on paper forms, it reduces the time and labor required for data input and tabulation to Excel and other formats, thereby saving time and improving the efficiency of management operations.
The "Lumitester" app for Lumitester Smart is a system that manages measurement data in the cloud. By linking systems through the cloud, measurement data recorded in "Lumitester" can be automatically imported into other companies' systems.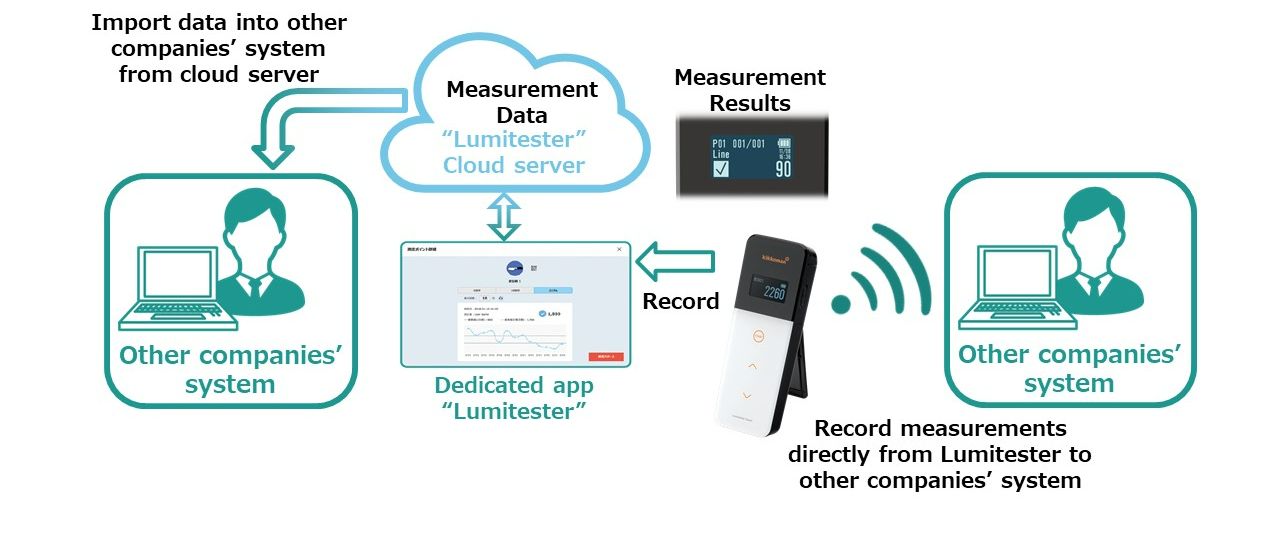 Lumitester Smart can also be directly linked to other companies' systems without using the cloud, making it possible to centrally manage data in a single system together with other record items such as 5S records and critical control points for HACCP.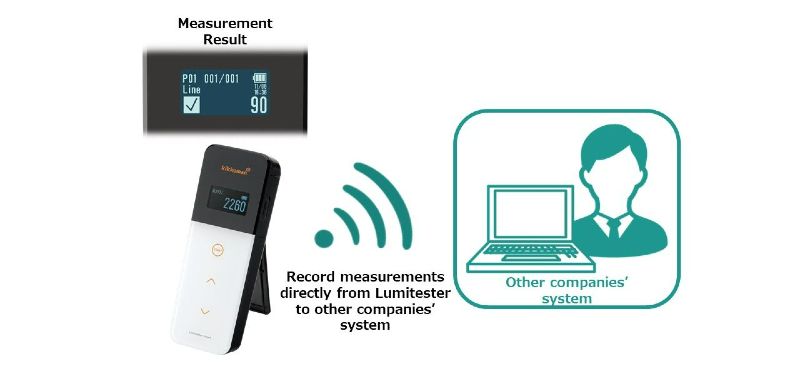 Differences between the "Lumitester" app and other companies' systems
   
App "Lumitester"
Other companies' system
Manage object
ATP Test data only
ATP Test data +α (Temperature data, Records of 5S, etc.)
Cooperation method

Bluetooth connection (BLE)

Bluetooth connection (BLE)
Cloud connection (API)*

Fee
Free of charge
Fee depends on each system
*Cloud connection requires the use of the dedicated app "Lumitester".
Manual