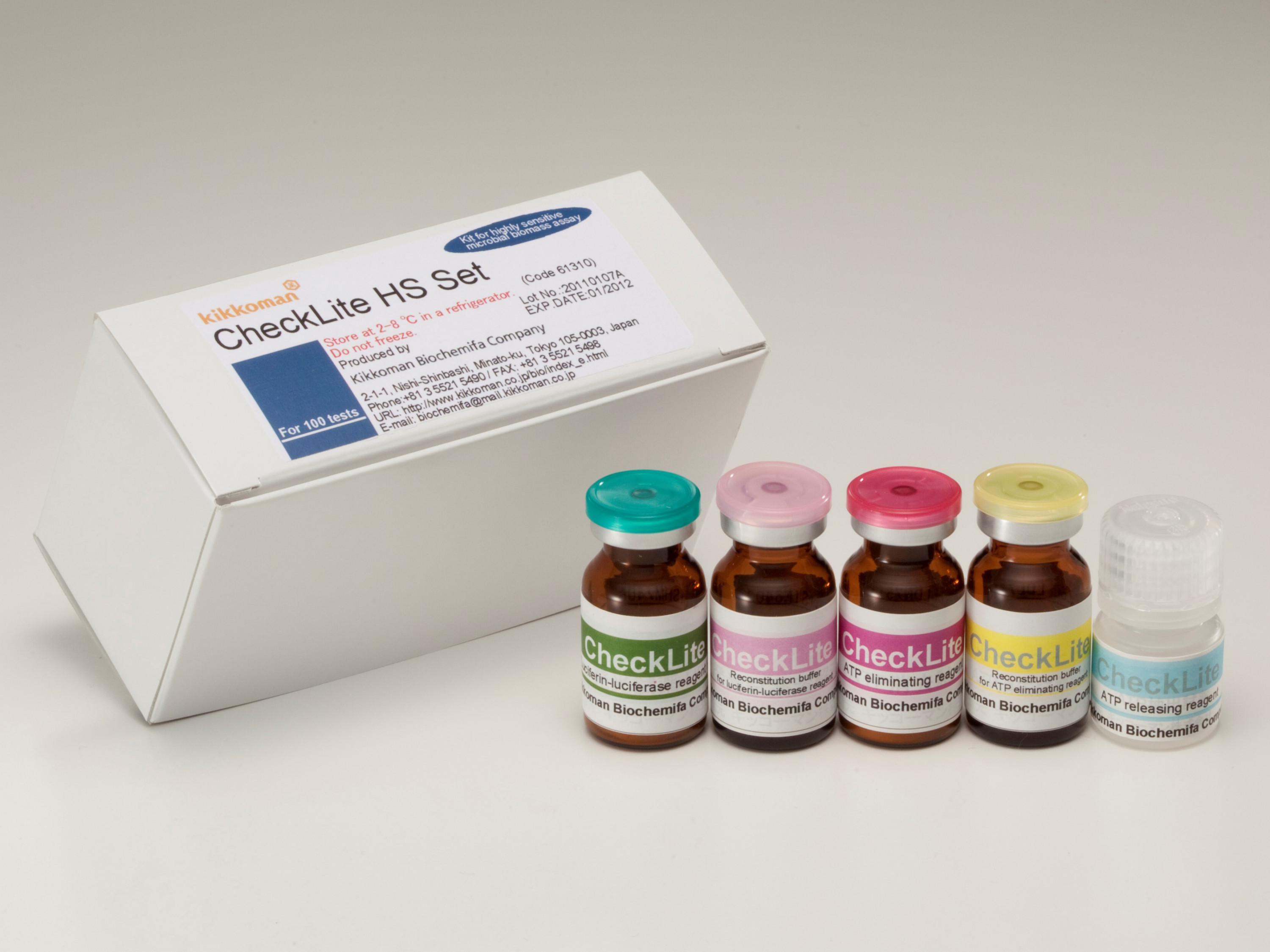 CheckLite HS – the HS stands for "High Sensitivity." CheckLite HS is a rapid test for biomass that produces analytical results in hours instead of days – just like all of the CheckLite tests systems. The CheckLite HS technology includes higher sensitivity reagents and incorporates an efficient ATP eliminating reagent to produce a higher sensitivity test with a lower detection level compared to CheckLite 250 Plus. So, when you need higher sensitivity and lower detection limits in a test that is still fast and easy to use, CheckLite HS is your choice.
Composition of kit
Product Name
CheckLite HS Set
Product Code
61310
Number of measurements
100 assays
Composition

Luciferin-luciferase reagent HS (lyophilized) x 2

Reconstitution buffer (5.5 ml) x 2

ATP eliminating reagent (lyophilized) x 2

Reconstitution buffer (5.5 ml) x 2

ATP releasing reagent (5.5 ml) x 2

Storage
2-8 ℃
Expiry
End of month after 16 months from manufacturing date.
Caution
CheckLite HS Set should be stored at 2-8 ℃ in a refrigerator. DO NOT FREEZE.
References
A ratio of spore to viable organisms: A case study of the JPL – SAF cleanroom. Jet Propulsion Laboratory, California Institute of Technology, Pasadena, CA. 2017.
Development of a filtration-based bioluminescence assay for detection of microorganisms in tea beverages. J. Food Prot. 2016, 79, 488-492.
Rapid detection of bacteria in green tea using a novel pretreatment method in a bioluminescence assay. J. Food Prot. 2014, 77, 941-947.
Evaluation of an improved bioluminescence assay for the detection of bacteria in soy milk. Biocontrol Sci. 2013, 18, 1-7.
Sensitive detection of bacteria and spores using a portable bioluminescence ATP measurement assay system distinguishing from white powder materials. J. Health Sci. 2004, 50, 126-132.
ATP as a biomarker of viable microorganisms in clean-room facilities. J. Microbiol. Methods 2003, 52, 367-377.