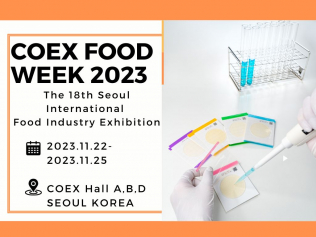 COEX FOOD WEEK 2023
Coex Food Week is the largest comprehensive food exhibition in South Korea, showcasing the future of the food industry, including premium domestic and international foods,
alternative and innovative food products, manufacturing automation, smart distribution, and agricultural technology. It serves as an ideal business platform for both B2B buyers and B2C consumers, offering opportunities for fruitful interactions.
Save time, labor, and money with Kikkoman Easy Plate. Easy Plate is a convenient, prepared media plate for faster and easier microbiological testing. Using a time-tested and AOAC-validated culture media methodology,
Easy Plate comes in an easy-to-use, stackable film plate format that saves on space, reduces waste, eliminates preparation time and labor, and streamlines your test procedures.
Each Easy Plate is specialized for a specific target organism (or group) and includes options for Aerobic Bacteria (AC), Coliforms (CC), E. coli/Coliforms (EC) , Staphylococcus aureus (SA) and Yeast and Mold(YM-R).
For more information about the product access to the link below
Kikkoman EasyPlate(Filmedia)/일반세균,대장균,대장균군,황색포도상구균 건조필름배지 - 주식회사 마이크로진 (microgiene.com)