Exhibition information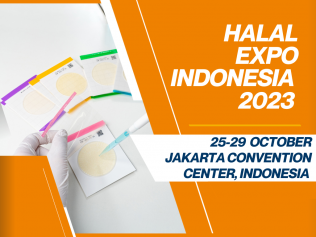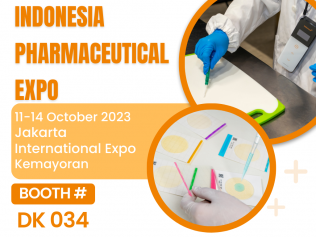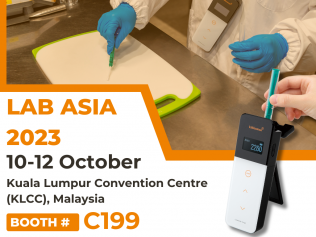 Past exhibition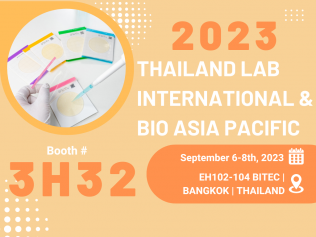 THAILAND LAB INTERNATIONAL
One of the leading laboratory exhibitions in Asia, showcasing all laboratory equipment and instrument covering areas of Analytical & Testing, Calibration & Metrology, Clinical &Diagnostic, Environmental &Safety, and Reasearch Development. Variety of conferences and seminars are conducted to update industry news and knowledge. Business networking activities, business matching, buyer privilege program will be held along with the exhibition.
BIO ASIA PACIFIC-Life Science, Health, Technology
New leading conference and exhibition platform for Biotechnology, Life Sciences and Smart Health in Asia Pacific. Bio Asia Pacific is focusing on innovative therapeutics and healthcare services blending 21st centry Life Sciences with latest in technology. Experience thought leadership and cutting-edge products in Life Science, Bio Tech, Med Tech, Digital Health, Precision Medicine, Biopharma and Smart Health Services in an inspiring event format.
Easy Plate is a prepared media plate that enables faster and easier food microbiological testing and improves food safety. No need for media preperation or sterilization. Simple operation, reliable results (AOAC, MicroVal certified). Sample is placed onto the media and does not require a spreader. Learn more at the trade show or contact us from here for more information
MicroVal Certifies Kikkoman Biochemifa Company's - Easy Plate|Test kit ❘ Kikkoman Biochemifa Company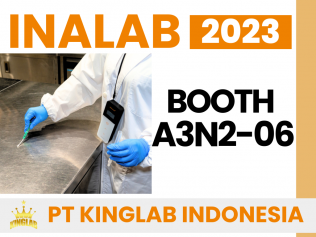 The Indonesia International Laboratory Equipment, Analytical Instruments &Services Exhibition 2023 (INALAB 2023)
INALAB 2023 will be held on 23-25 August 2023, and will be co-located with INAPHARM, CHEMICAL INDONESIA, and Food Manufacturing Indonesia at Jakarta International Expo (JIExpo), Kemayoran, Jakarta-Indonesia. Known to be the showcase of the latest Laboratory Equipment and Analytical Instruments for various industies to Indonesia's Laboratories industries and Asia-Pacific Region. Indonesia as the largest market for the laboratory industry in the region is very potential for health-related needs. Based on the introduction of general health insurance in 2014, there is a huge number of Indonesian people who are entitled to health care, which reaches more than 220 million. The health care includes laboratory tests and very soon, all 270 million inhabitants will be entitled to benefit from it. There are nearly 2,900 hospitals in Indonesia. Many of them have
PT KINGLAB INDONESIA
PT Kinglab Indonesia to come to booth No. A3N2-06 at INALAB 2023. FInd the right product solution and the latest technology for all your laboratory needs. Also attend product presentations on the latest technology of hygiene testing and sanitation using ATP Test (Kikkoman A3) that can provide test results more quickly and effectively.
ATP Test (Kikkoman A3)
Have you ever had concerns about the cleanliness of your working environment, even after careful cleaning? Using vistal inspection methods can be deceiving as invisible soil can remain on surfaces causing risks for bacterial contamination and foodborne illness and allergen contamination in the food manufacturing industry. In addition, it represents a risk of spreading infections in medical settings and in the case of cleaning.
The ATP Test (Kikkoman A3) enables high-sensitive detection of such invisible soil. We can verify cleaning insufficiency, which enables subsequent soil removal and risk reduction.
ATP Rapid Hygiene Monitoring (ATP Test)|Test kit ❘ Kikkoman Biochemifa Company
Easy Plate-Prepared Media Plate
Easy Plate is a pre-prepared film media that enables faster and easier food microbiological testing and improves food safety. No need for media preparation and sterilization. Simple operation, reliable result (AOAC PTM certified). Sample is placed onto the media to start incubation. Learn more about the product from the link below.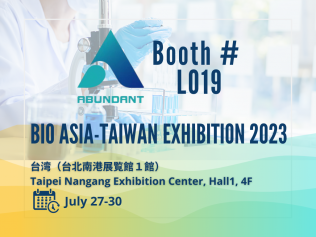 BIO Asia-Taiwan Exhibition 2023
Jointly organized by the global Biotechnology Innovation Organization (BIO) and the Taiwan Bio Industry Organization (Taiwan BIO) the BIO Asia–Taiwan International Conference and Exhibition was held for the first time in 2019. An endorsement of Taiwan as a leading Asian biomedical industry hub, the gathering was a resounding success. With the onset of the COVID-19 pandemic, the 2020 edition was successfully transformed into a unique blend of live and online gatherings, with this format used in subsequent editions to encourage even greater participation from the international biotechnology community.
Abundant-Life Co.Ltd
Your partner in lab evolutions. Introducing the new generation of ATP Test (Kikkoman A3) for environmental hygiene monitoring and Easy Plate-prepared media plate that makes lab testing easier and faster!
Access the link below for more information on the new technology.
Easy Plate測試片培養基 – Abundant (abundant-tw.com)
Lumitester Smart ATP熒光檢測儀 – Abundant (abundant-tw.com)
Easy Plate
Lumitester Smart &LuciPac A3