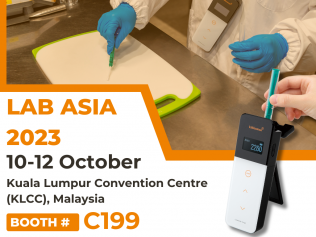 LabAsia 2023-8th Edition of Malaysia International Scientific Instruments and Laboratory Equipment Exhibition and Conference
LabAsia is Southeast Asia's premier laboratory exhibition, providing a trading platform for laboratory equipment and services suppliers to connect with trade buyers from across the ASEAN region. With its high internationalization and complete coverage of the laboratory industry chain, LABASIA is a trading platform for efficient communication between suppliers and key buyers, offering many business opportunities for laboratory instrument enterprises. Internationally renowned companies and excellent domestic brands will gather at the brand-new venue from 10-12 October 2023 at the Kuala Lumpur Convention Centre (KLCC), Malaysia.
In addition to providing all-around solutions for laboratory professionals, LABASIA also creates a more accurate and deep-seated communication platform for domestic and foreign instrument brand enterprises, promoting the development of R&D, testing, and analysis technology in the pharmaceutical and biotechnology fields.
Premier Diagnostics
Premier Diagnostics Sdn Bhd is a Malaysian company that specializes in providing high-quality products and solutions to customers in the medical and industrial sectors. We are proud to serve a diverse range of clients, including government agencies, hospitals, and research centers, private hospitals and clinics, the food industry, public laboratories, and many others. Our comprehensive range of products and solutions has helped us become a trusted partner for our valued customers.
Lumitester Smart - ATP Test (Kikkoman A3)
Have you ever had concerns about the cleanliness of your working environment, even after careful cleaning? Using vistal inspection methods can be deceiving as invisible soil can remain on surfaces causing risks for bacterial contamination and foodborne illness and allergen contamination in the food manufacturing industry. In addition, it represents a risk of spreading infections in medical settings and in the case of cleaning.
The ATP Test (Kikkoman A3) enables high-sensitive detection of such invisible soil. We can verify cleaning insufficiency, which enables subsequent soil removal and risk reduction.
Lumitester Smart- ATP Test (KIkkoman A3)