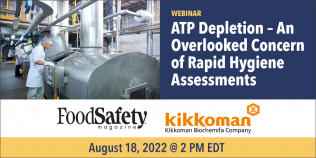 ATP tests for hygiene monitoring are used in food processing because they are fast, easy to use, and cost-effective. Recent research has characterized the limitations of conventional ATP tests—limitations that can lead to false negative hygiene assessments. The issue relates to the tendency of ATP to degrade in many soils and under common plant environmental conditions. If this depletion occurs, ATP-based assessments become increasingly less sensitive and may yield indications that the surface in question is clean when, in fact, significant levels of soil may still remain. Conditions resulting in ATP depletion are most common in typical manufacturing venues and can result in a false negative in areas sensitive to food hygiene maintenance. This webinar will present recent research from the University of Wisconsin–Madison demonstrating this ATP-depletion phenomenon and how processors can guard against such false negative assessments.
Learning objectives:
Why ATP tests may show false negative assessments
Which food, and which food processors, are most at risk for these false negative assessments
How this issue with ATP may be impacting your sanitation program
ATP Depletion-The Risk of False-Negatives in Hygiene Monitoring
Professor and Chair of the Food Science Department University of Wisconsin - Madison Scott A. Rankin, Ph.D.
Case Study: ATP Test (Kikkoman A3) in food and beverage industry
Director of Key Accounts and Market Segments, Weber Scientific Marybeth Karczynski
Introduction of Kikkoman
General Manager, Marketing & Planning Division, Kikkoman Biochemifa Company Mikio Bakke, Ph.D.