Lumitester Smart Manual and App
ATP Rapid Hygiene Monitoring
APP "Lumitester"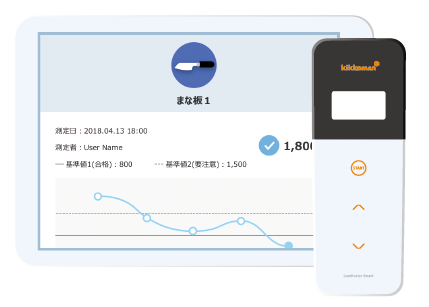 App to continuously monitor multiple data
Easy to set test points and benchmark values
Easy to link test points and test results
Display time-series data for each test
Visualize overall inspection scores through graphs
Centralized multi-site data with cloud management
App "Lumitester" - New Updates Information  
Support for "iOS 15", "iPad OS 15" and "Windows 11"
We are currently in the process of checking the operation of the new iOS version "iOS 15" , "iPad OS 15" and the new Windows version "Windows 11", which are scheduled to be released in the near future. If you update your OS, there is a possibility that the app will not work properly.
Please refrain from updating your Apple devices to "iOS 15, iPad OS 15" and your PC to "Windows 11" until the operation check is completed.
We will inform you our future response to this issue after we have confirmed the operation with officially released "iOS 15", "iPad OS 15" and "Windows 11".
If you are unable to use the APP "Lumitester" due to this issue, we may not be able to provide support. Thank you for your understanding.
We apologize for any inconvenience this may cause and thank you for your understanding and cooperation.
For Smartphone or Tablet
For PC (OS: windows 7 or 10)
OS Requirements
Windows 7, 10
Android 5.0 or later
iOS 10.0 or later
PC (Windows ver) with the following requirements
OS: Windows 7 (32 bit/64 bit) or Windows 10 (32 bit/64bit)
CPU/RAM: See recommended system of Windows
Hardware:1GB or more free disk space, USB port
Caution of Bluetooth
Radio frequency bands and communication methods that can be used are defined for each country. In some countries, registration of wireless devices may be mandatory.
Country or region where Bluetooth can be used:
・Japan, United States, Canada, EU, United Kingdom, Australia, New Zealand, Thailand, India
・Korea, Taiwan (First 4 digits of the serial number starts on and after 1905 can be used.)
・Singapore, Philippines, Mexico (First 4 digits of the serial number starts on and after 1919 can be used.)
・China, Indonesia, Malaysia (First 4 digits of the serial number starts on and after 1925 can be used.)
Lumitester Smart manual
User's manual