Renewable Resources Biomass-Based Polypropylene Adopted 100% for LuciPac Series.
LuciPac Series Adopt 100% Biomass-Based Polypropylene*1
Kikkoman Biochemifa Company announced today that it will adopt biomass-based polypropylene *1 based on the mass balance approach *2 that has acquired ISCC-PLUS certification*3 handled by ITOCHU PLASTICS INC. From September 2023 will gradually replace the conventional petroleum-based polypropylene used in LuciPac, an ATP Test (Kikkoman A3) reagent, with 100% biomass-based polypropylene*1.
ISCC Certification
ISCC (International Sustainability and Carbon Certification) is a sustainability certification widely adopted mainly in Europe. By having companies that manufacture, process, and sell products linked to certified raw materials such as biomass-based and recycled materials obtain this certification from upstream to downstream of the supply chain, the certification ensures the reliability of traceability from raw materials to products.
*1 This biomass-based polypropylene is made by SK geo centric Co.,Ltd. (Korea) and uses bionaphtha, which is derived from renewable raw materials such as waste and residues from agriculture and food industry, and waste cooking oil (mass balance approach).
*2 Mass balance approach A method in which, during the process of turning raw materials into final products and the distribution process (chain of custody), raw materials with certain properties (e.g., bio-based raw materials) are mixed with raw materials that do not have the properties (e.g., fossil-based raw materials); thus, the properties are assigned to a portion of the product according to the amount of input of the raw materials with those properties.
Reference: "Roadmap for Bioplastics Introduction"-PⅪ No.22 by Ministry of the Environment Government of Japan(env.go.jp) (External link)
*3 ISCC PLUS certification is a voluntary scheme that is applicable for the bio economy and circular economy for food, feed, chemicals, plastics, packaging, textiles and renewable feedstock derived from a process using renewable energy sources. ISCC PLUS covers the same certification requirements as ISCC EU but can be customized to meet the needs of different markets or specific applications. All kinds of biomass, waste and residues, non-biological renewables and recycled carbon materials can be certified under ISCC PLUS.
Reference
ISCC PLUS – ISCC System (iscc-system.org) (External link)
License Number
ISCC-L-81 ISCC System (iscc-system.org)-LuciPac (External link)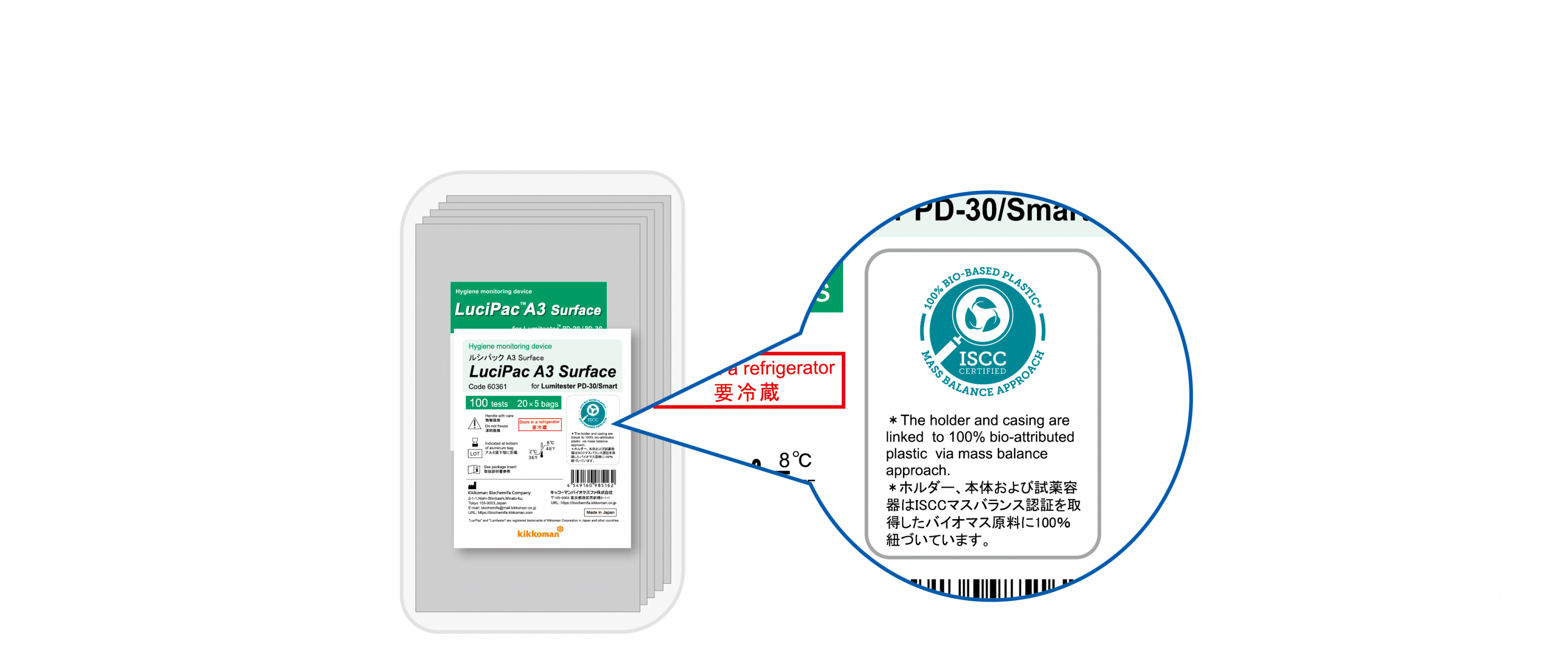 The certification mark is on the product label attached to the polyethylene outer bag and not the aluminum bag label.