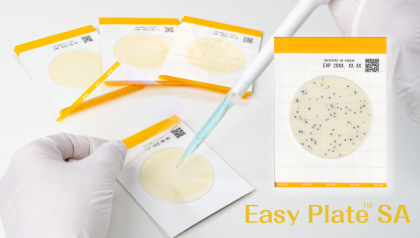 Easy Plate SA certified by AOAC RI PTM and MicroVal was presented at IAFP European Symposium 2023.
The poster is available for download (PDF).


Shinichiro Sugiura
1
, Suzanne J. Jorden
2
, Kentaro Takenaka
3
, Mai Shimizu
3
, and Takeo Suzuki
3
(1) Kikkoman Biochemifa Company, (2) Campden BRI, (3) Kikkoman Corporation
Abstract
Introduction
Ready to use (RTU) media offers many advantages to the end user including shorter time-to-result and ease of use as well as being more sustainable. Easy Plate SA (Kikkoman Biochemifa Company) reduces the time of enumeration of Staphylococcus aureus to 24 h, a savings of 24 h compared to the standard ISO 6888-1 protocol.
Purpose
To compare the performance of the RTU device and ISO method 6888-1(2021) for the enumeration of S. aureus in a broad range of foods following the ISO 16140-2 validation protocol.
Methods
This study evaluated the specificity, selectivity, repeatability, accuracy and relative trueness of the RTU device as required by ISO 16140-2. During the study, 225 food samples were analyzed across five food categories: dairy products, fishery products, produce and fruits, meat and poultry and multicomponent foods. All samples were tested according to the manufacturer's instructions and ISO 6888-1.
Results
Results from the study revealed the RTU device gave comparable results to the reference method across the 75 analyzed in the relative trueness with no evidence of bias between the methods. In the accuracy profile study, all five categories tested satisfied the 0.5 log acceptability limit or the recalculated acceptability limits. Data also indicated that the RTU device was selective and specific, inhibiting the growth of nine non-target organisms that grew on the reference agar.
Significance
The RTU device gives equivalent results to the ISO reference method 6888-1(2021) for a broad range of foods. This RTU device is a rapid convenient alternative for the enumeration of S. aureus enabling results in 24h.
URL
Performance Evaluation of Ready-to-Use Culture Media, Easy Plate SA for Enumeration of Staphylococcus aureus in a Broad Range of Foods (confex.com)