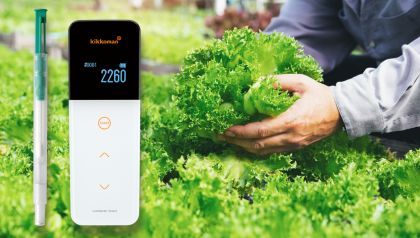 Pragathi Kamarasu Ph.D received Capital Area Food Protection Association (CAFPA) Kikkoman Student Research Grant in 2021, presented her research at IAFP 2023. The research investigates the role of ATP Test can act in creating a better sanitation of leafy green processing equipment.
Pragathi Kamarasu, Amanda Kinchla, Matthew D.Moore Department of Food Science, University of Massachusetts Amherst
Abstract
Introduction
About 46% of foodborne illness incidents are attributed to raw produce-like leafy greens. Small-sized growers retrofit washing machines to dry triple-washed leaves, effectively turning them into large salad spinners. Previous work demonstrates that this practice has the potential to cause cross-contamination of Listeria. However, the potential efficacy of different cleaning agents and sanitizers to mitigate this risk has not been explored.
Purpose
This project aims to investigate various risk reduction mitigation strategies using traditional on-farm applications of cleaning agents and investigates two commonly used food contact surface sanitizers.
Methods
Listeria innocua at 102-109 CFU/ml was inoculated and dried onto spinach, followed by drying in a retrofitted washing machine modified for postharvest drying of leafy greens. The application of detergent and water with mechanical action like scrubbing to evaluate the cleaning and sanitizer (chlorine (200 ppm) and peroxy acetic acid (100 ppm) based sanitizers) efficiency. Three contact surfaces per layer of the machine were sampled using sterile microbial swabs and ATP swabs to enumerate the relative levels of the bacterial transfer and ATP recovered.
Results
There was a 90%±5% microbial recovery from the different contact surfaces of the machine. Overall, the highest level of recovery was consistently measured in the bottom water-collecting contact point, suggesting the highest risk of bacterial deposition may occur in this region. The mitigation strategies were proven to be successful as the microbial recovery was below the LOD post-cleaning and residual microorganisms were completely removed post-application of both chlorine and PAA sanitizers. In addition, the ATP values were reduced to approximately 150 RLU post-cleaning.
Significance
This information supports the need for producers to establish a cleaning and sanitizing SOP for drying units to reduce microbial contamination in post-harvest surfaces such as using modified washing machines.
Download poster (PDF) from here.
URL
The Risk Assessment of the Sanitation Practices of Modified Washing Machines in the Processing of Leafy Greens (confex.com)
Pragathi Kamarasu Wins Fellowship to Foster Food Safety : College of Natural Sciences : UMass Amherst UMass PhD Candidate Awarded CAFPA Kikkoman Grant – Capitol Area Food Protection Association