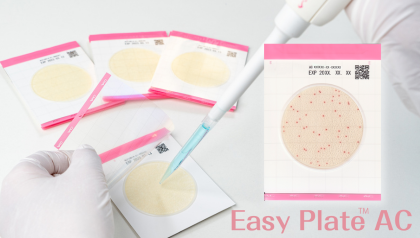 Easy Plate AC certified by AOAC RI PTM and MicroVal was presented at IAFP European Symposium 2023.
The poster is available for download (PDF).


Shinichiro Sugiura1, Suzanne J. Jorden2, Kentaro Takenaka3,Mai Shimizu3, and Takeo Suzuki3
(1) Kikkoman Biochemifa Company, (2) Campden BRI,
(3) Kikkoman Corporation
Abstract
Introduction
The Ready-to-use (RTU) media Easy Plate AC (Kikkoman Biochemifa Company) provides many benefits including reduced time-to- result, simplicity of us,e and is more sustainable compared to conventional plate count agar. The speed of analysis of the device gives a saving of 24 h over the reference method with results available in 48 h.
Purpose
To evaluate the performance of the RTU device for the enumeration of aerobic count as detailed in the ISO 16140-2 validation protocol.
Methods
The repeatability, accuracy and relative trueness of the RTU device was evaluated during the study across 5 food categories; dairy products, fishery products, produce and fruits, meat and poultry, and multicomponent foods in addition to environmental samples and pet foods. Analysis of the samples was performed according to the manufacturer's instructions and ISO 4833-1 (2013).
Results
Study results revealed good agreement between the RTU device and the reference method in the 105 samples analyzed in the relative trueness study. During the accuracy profile it was demonstrated that all seven categories passed the 0.5 log acceptability limits or the recalculated limits. Additional studies showed that the RTU device prevented the spread of members of the Bacillus spp. seen on Plate Count Agar.
Significance
Data indicates that the RTU device provides equivalent results to the ISO reference method 4833-1 (2013) for a broad range of foods, environmental samples and pet foods. In addition to the reduced time-to-result compared to PCA, the media allows better colony counting with samples containing Bacillus spp.
Download poster (PDF) from here.
URL
Performance Evaluation of Ready-to-Use Culture Media, Easy Plate AC for Enumeration of Aerobic Plate Count in a Broad Range of Foods, Environmental Samples and Pet Foods (confex.com)